DESIGN TO INSPIRE – THE NOUR COLLECTION
The Vision – "We know what we can be by what we can see." Laura Liswood. 
It is a rare sight to see a Hijabi athlete competing in triathlon, but Khadijah Diggs has been working to change the script ever since she entered and fell in love with the sport in 2010. Ms. Diggs is the first African-American Woman to be a member of the U.S.A. Long Course Triathlon Team and the first Hijabi to represent the United States in any multisport event. Ms. Diggs is also the founder of Diversity Inclusion Syndicate (DISK), a nonprofit organization dedicated to promoting excellence and sisterhood in life through the sport of triathlon as well as to diversify the landscape of triathlon.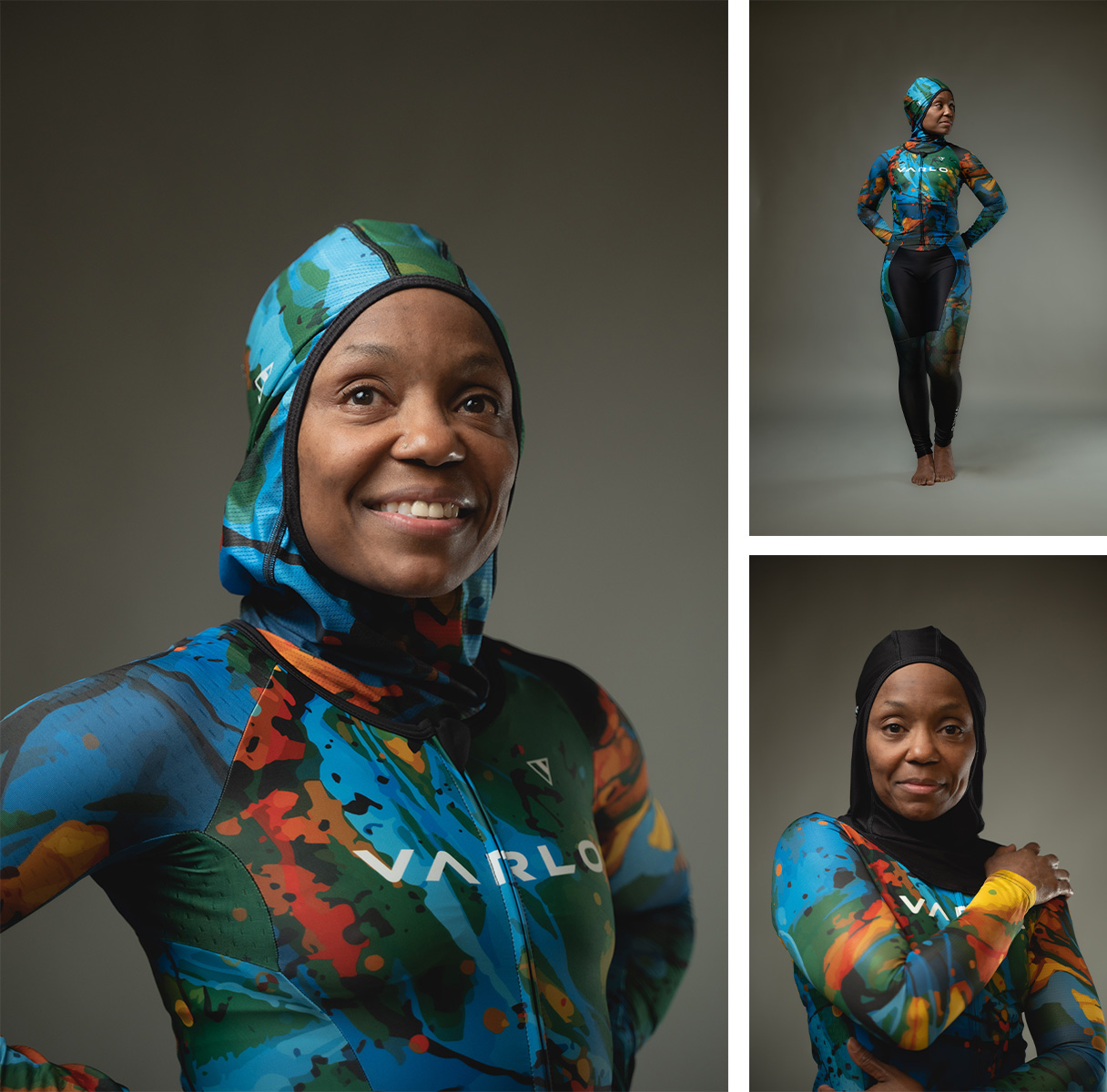 As an elite age group athlete, Ms. Diggs has been fortunate, through the support of her sponsors, to commission custom full coverage triathlon suits for training and racing. Over the years, she has been contacted by numerous women across the globe seeking similar multisport apparel, but who were not in the position to undertake one-off custom pieces.
Ms. Diggs approached Varlo in 2021 and shared that it was her dream to have a company willing to create a retail line that any full coverage athlete could purchase "off the rack" to lower the barriers of entry into the sport.
After hearing from Ms. Diggs on Hijabi athletes' struggles to find appropriate sports apparel, Varlo set out to make this vision a reality, and create the NOUR COLLECTION – triathlon's first full coverage apparel line.  
The process
It was essential for Varlo to work with a designer with personal experience on how the garment should fit and perform. Varlo commissioned Sehlah Ahmad, a designer and athlete from Drexel University's Westphal College of Media Arts and Design, to cut, sew and build the hijab specifications. For Ms. Ahmad, it was an "honor to support other Muslim athletes as a designer to make it known to the world that we belong in these spaces." Varlo also obtained input from other Hijabi athletes to obtain additional feedback in creating the build specifications. The end result is a comfortable, high performing product designed by Hijabi athletes for Hijabi athletes.
Varlo also consulted with Ms. Diggs to leverage her years of racing in full coverage suits while competing at the highest levels of the sport. Hearing her input, Varlo created a specially tailored build featuring ultra-cooling and breathable Italian knit fabric on the arms, side panels, and lower legs; and mesh 160 GSM behind-the-knee panels for the ultimate in ventilation. 
It is Varlo and Ms. Diggs' hope that the NOUR COLLECTION will "open the door for every woman who has been told that she can't, to see that she can."